Trust & Estate Tax Return
This price includes a single-user registration to use the secure Taxfiler service to prepare and file one Trust & Estate Tax Return and computation for tax years up to 2019-20 (year ended 5 April 2020).
Features
Full Trust & Estate form (SA900) with all supplementary forms
Suitable for use by trustees or personal representatives
Full calculations of tax liability, including tax pool computation
All types of trust are supported, including non-resident and charitable trusts
Produces R185 forms to aid trust beneficiaries in completing their personal tax returns
Works on all modern browsers, including tablets and Apple Macs
Forms included with a Trust & Estate tax return
| | |
| --- | --- |
| SA900 | Trust & Estate Return (2013-2020) |
| SA901 | Trust & Estate Trade |
| SA901L | Lloyds' underwriters |
| SA902 | Partnership |
| SA903 | UK property |
| SA904 | Foreign |
| SA905 | Capital gains |
| SA906 | Non-residence |
| SA907 | Charities |
| SA923 | Pension charges etc |
| R185 (Trust) | Statement of income to trust beneficiaries |
| R185 (Settlor) | Statement of trust income chargeable on settlor |
| R185 (Estate) | Statement of estate income |
How does it work?
Sign up for an account
Use our secure sign-up page to create an account in seconds.
Make payment
You can pay via a PayPal account or a credit or debit card.
Input your data
Input your details in our simple to use data-entry pages. As you enter the data it will be saved so you can complete the input over several visits if necessary.
View your final return
View your tax return form on screen, or save as a PDF to print.
Prepare your tax return for filing
When you are happy, our software will validate your tax return and check that it can be accepted by HMRC.
Submit to HMRC
Taxfiler will submit your tax return directly to HMRC, and you will need to enter your Trust's Government Gateway user id and password into Taxfiler so that HMRC will know that it is being submitted by you. Taxfiler will wait until it receives confirmation from HMRC that the return has been received. HMRC will also send you an email notification when they have received your tax return, so that you know that Taxfiler has submitted it correctly.
Use your favourite browser
Taxfiler can be accessed using most modern browsers. Whether you are running Windows on a PC or laptop, or using an Apple iMac or MacBook, or a tablet, you can be confident that Taxfiler will work for you.


Help & Support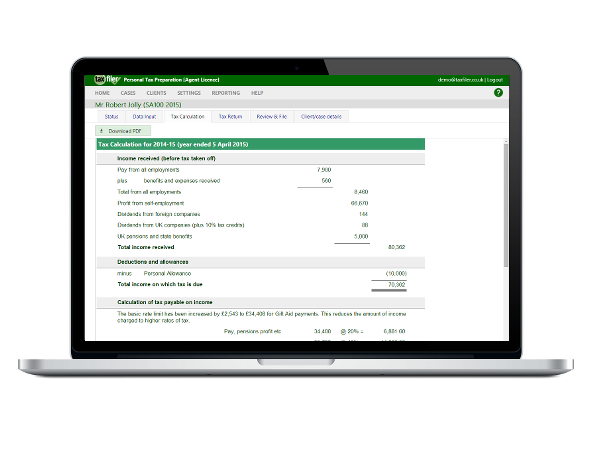 Support desk
We are sure you will find Taxfiler easy to use and that you will file your return quickly. If you do have a question, just send an email to our support desk (support@taxfiler.co.uk) and we will be happy to help.
Opening hours
Our support team are available during normal business hours, Monday-Friday 9am to 5pm (UK time). If you email outside these hours then you may not receive a reply until the support desk opens. During January as the filing deadline approaches our support team work extended hours to help ensure your submission goes smoothly.
Tax questions?
Note that our help is limited to the use of Taxfiler and we are not able to give advice on any specific tax queries you may have. If you need expert tax advice then we recommend you speak to HMRC or to a professional tax adviser.
Important note
To file online with Taxfiler, the trust must be registered with HMRC online services and have an activated User ID and Password. You will need to know the Unique Taxpayer Reference (UTR). You can register a trust for HMRC online services on the HMRC website.


Filing deadlines
HMRC send activation codes by post and this can take up to 10 days. If you have not activated your online ID by 31st January then you will not be able to submit your tax return before the filing deadline using our service. To check if your User ID and Password are active you can try logging into HMRC online. If you are able to login and view your account then you will be able to submit your tax return with Taxfiler.
Taxfiler 2020: Trust & Estate Tax Return
Terms of use
Secure registration and payment
To register for a Taxfiler account you will be taken to our secure website and asked to enter your name and your email address. After registration you can pay using a credit card or using PayPal. You do not require a PayPal account.