The process for authorising a link between Taxfiler and Xero has changed with effect from 31 March 2021.

Each user will need to create their own link from Taxfiler to Xero, as authorisation is no longer stored on a client basis, but rather on a user basis.

This is complicated in that after the first user has connected Taxfiler to Xero, Xero shows as connected but the second user will need to 'break' the link and reconnect. Once done, both the first and second user will be linked to the client.

When you initially connect or want to reconnect Taxfiler to Xero, when you click Connect to Xero from within Taxfiler, you will be redirected to the Xero login page and asked to enter your login details to allow Taxfiler access to Xero.

You will need to select the organisation (your client) that you wish to link to from the drop-down list.

In this instance, user 1 has connected to the Demo company and is looking to import the trial balance; you can see that the company is connected.

When user 2 logs in they will see the connection. They can click Fetch TB from Xero at which point the following message is displayed: 'Access may have expired – please unlink and re-authorise'.
When user 2 clicks Unlink from Xero, and then clicks the connect to Xero, Xero will show that there are already connected organisations.

In the example below there are two connected organisations. User 2 is wanting to connect to an already linked client, so they need to click Continue with 2 organisations at the bottom of the screen. If they want to connect a new client, they select the client from the drop-down list of clients.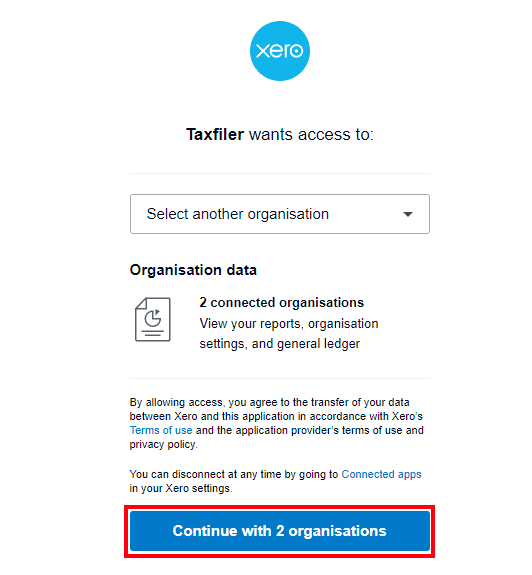 After clicking 'Continue with 2 organisations', Taxfiler will show a list of the organisations that are connected, so that the correct client can be selected.
Now both user 1 and user 2 have access to this Xero client within Taxfiler.