Clients are added from the CLIENTS tab on the Taxfiler menu. Click on +Create New Client (see support notes Import clients from CSV file for help on a bulk create option).

A new window opens. select the type of client you are adding: Individual, Partnership, Trust or Company. Be careful to select the correct type as this cannot be changed once the client is created in Taxfiler.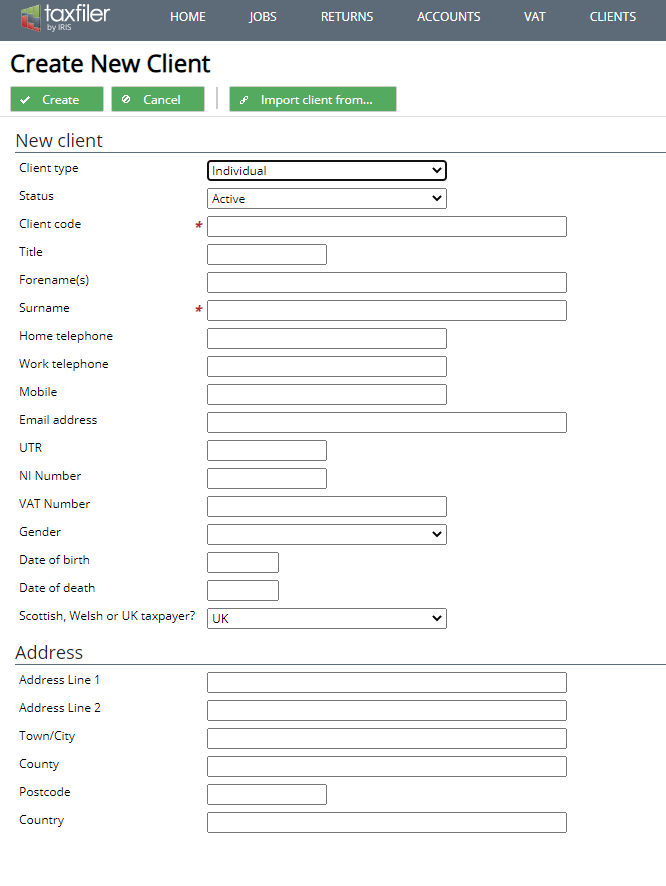 The information you will need to enter is different for each client type.
Client code – each client in Taxfiler is given a unique code. You may use any code you like. This field is mandatory.
UTR – this is the 10 digit Unique Taxpayer Reference number
Click Create and a new screen opens.
Where you have enabled Practice Management the fields for the Services provided will be displayed, tick the boxes for the services being provided for this client. Taxfiler will create the jobs for the client based on the Services selected. This can be created at a later date.

Responsibility
If you have multiple users and/or multiple offices you can specify the office, partner, manager and staff responsible for the administration of this client. Entering this information is optional but allows clients and tax returns to be filtered based on the criteria entered. This information is also used to allocate jobs when using the Practice Management module.
For registered UK companies enter the company number and click theLookup Company Number button. This will search the Companies House database for the company details and populate the name, Date of incorporation, Accounts period end date and address fields if the company is found. If the details are not found these fields can be updated manually.
UTR – this is the 10 digit Unique Taxpayer Reference number
VAT Number – where the company is registered for Vat, enter their VAT number, this will activate the VAT tab for this company.